Event News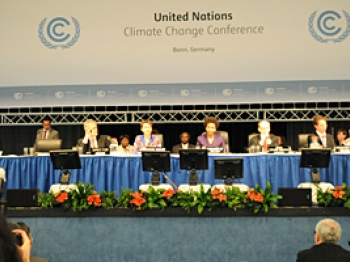 Date: Tue, May 22, 2012 at 3:29 PM

Dear all,

While closely following the negotiations in progress (or retrogress) here in Bonn Climate Talks, it seems to me that there is a tactical consensus within developed countries and developing countries on not working to reduce emission pre-2020 while the LDCs sit in the sidelines (and the poorest of the poor are suffering great deal, back home). Though, the developed countries and developing countries (Read; BASIC,etc) seem to be fighting with each other in vast range of issues including equity, mitigation ambition among other, they are merely buying time for inaction.

Without strong pledges, actions and work program to reduce emission pre-2020 as suggested by scientific community, the world is in the verge of crossing that dangerous 2C warming red-line. Consensus on post2020 mitigation ambition is very very important but at the same time parties have to agree on the pre2020 actions to keep the warming below 2C and preferably below 1.5C. For this, there is no doubt that the developed countries should take the concrete first steps and the developing countries also take their responsibility (according to their respective capabilities).

As, I mentioned in the previous email, the whole negotiations are into how to approach mitigation (developed countries prefer to enjoy their current status-quo by offering to help finance developing countries' NAMA, but there is no way developing countries can be assured, though! ) while the 'adaptation' the key issue of LDCs is sidelined (though there are negotiations going on in NAPs, Loss and Damage, etc, NAPAs have clearly lost their space and essence).

At this juncture, there is a need of strong and collective voice from LDCs for substantial emphasis on adaptation and to push for clearly mentioned amount out of that $ 100B financing that would be generated under GCF (still there no assurance as how that will happen) to be allocated to adaptation (and capacity building, technology transfer) in LDCs. Unfortunately this is not happening.

Regards, Sunil
On Mon, May 21, 2012 at 2:17 PM, Manjeet Dhakal <manjitdhakal@gmail.com> wrote:

Dear all

Attached please find a copy of ECO 21 May with brief stock taking of first week of negotiation at Bonn. It seems that, debate is still going on to select chair for Ad Hoc Working Group on the Durban Platform for Enhanced Action (ADP) and agree on its agenda.

The second attachment is another copy of ECO dated 15 May, where cartoon/picture from one of our publication was put for competition.

More updates from colleague from Bonn.
Regards
manjeet
Date: Mon, May 21, 2012 at 4:41 PM

Yes, today's edition of ECO (21, May) gives the excellent round up of the negotiations in the first week. It has also recommendation for parties to concentrate on the second week.
Below are some issues that are heating up the Bonn negotiations:

ADP: The issue of who becomes the chair. Currently there are three candidates [Mr. Harald Dovland, Norway (WEOG) , Mr. Kishan Kumarsingh, Trinidad and Tobago (GRULAC) and Mr. Jayant Moreshwar Mauskar, India(Asia-Pacific)]. The Asia-Pacific group has strongly put forward its claim owing to the history of low representation of the region in chairing the bodies of UNFCCC.

Despite being able to elect ADP bureau, the parties have agreed to keep working on the ADP under the presidency of COP chair as an interim measure. However, the parties are very much divided on whether to adopt the agenda that is proposed. The main contentious issue is whether to adopt the agenda as it is or amending some items in it. US, EU, Japan, Costa Rica, etc do not want to talk about any change in agenda where as China, Philippines, Egypt, etc want to delete item 4 of the agenda and consolidate it with item 3.

LDCs are in the view that agenda can be adopted as it is to expedite the work of ADP.
The observers are of the view that countries including China want US to take concrete action on raising ambition to limit the warming within 2C. While others see it as developing countries tactic to avoid emission ambition pre2020.

LCA: On Thursday, 17May, the AWG-LCA adopted the provisional agenda to begin its work. Following that in the contact group meeting, parties had divergent views on whether the issues such as Trade and IPR should be discussed in their respective forums such as WTO and WIPO. Singapore was vocal to raise this issue.

Developed countries headed by US are blocking spin-off group on finance. With GCF operational (on papers) the focus now is on reaching to 100B $ a year by 2020, however, blocking the creation of spin-off group is seen as hindrance to reaching decision on finance in Doha in December.

KP: No consensus on 5 year or 8 year for 2CP of Kyoto Protocal.

Other Issues:
Equity: The issue of equity is in front and center as negotiations proceed here in Bonn. There is no agreed common definition of 'Equity' itself ! 'Workshop on Equitable Access to Sustainable Development' was held on 16 May. There are differences among parties on how to approach on Carbon budget and effort sharing. And the issues that will be discussed will be on 'pathways forward'. There are other points that call for attention; Understand the principles of the Convention – CBDR & RC, and also understanding on what is inequitable eg: gigatonne gap being filled by developing countries and not doing anything.

Loss and Damage: Seems there will be no agreement in near future on issues related to Loss and Damage.

And, to my surprise whole negotiation is moving on to mitigation actions/efforts by developing countries by preparing and implementing NAMAs. Developed countries are supposedly willing to support NAMAs. Though, NAPs discussion is also going on in LCA, the essence of NAPA has lost its spirit as I saw in LEG workshop they are for revising NAPA where as countries like Nepal need to focus on implementing the projects envisioned by NAPA that has been prepared.
More updates will follow.

Best, Sunil