Event News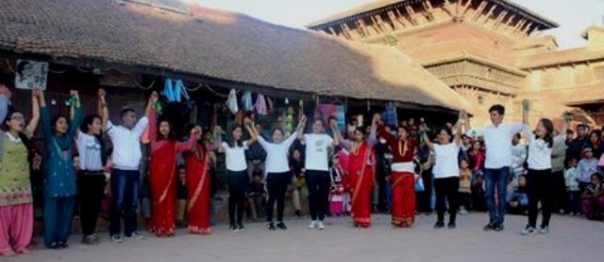 Nepalese Youth for Climate Action (NYCA) together with Clean Energy Nepal (CEN) organized "COP 22 Ground Action Event" to observe the Global Day of Action, 2016 at Mangal Bazaar, Lalitpur on 12th of November, 2016. The event was supported by Oxfam in Nepal whereas Alliance for Agriculture and Food and GROW Campaign were other event partners.
Global Day of Action is celebrated globally to mark the first Saturday during the COP. Various youth groups and networks celebrate this day globally to pressurize and influence the policy makers, raise awareness and understanding on climate change issues and youths demand on climate change. Since 2008, every year during COP, NYCA has been successfully organizing ground action event to aware and empower youths, stakeholders and policy makers. Likewise, this year also NYCA celebrated this day with several activities including flash mob followed by street drama, poster display and documentary show. The main theme of the drama was climate change, its impacts on agriculture, gender vulnerabilities and possible ways of adaptation and mitigation measures. The main motto of the drama was to raise awareness on climate change issues and impacts along with the strong demand for effective actions and climate justice to combat climate change. The crowd was overwhelmed watching the drama amalgamated with poems written by Ms. Parbati Pandey; a youth student of Environment Science and directed by Er. Damodar Pd. Dhital, program officer of CEN.
The event was successful in creating and raising awareness to over 500 people on climate change, its impacts and mitigation measures through the means of audio visual method of sharing. Beside the drama and documentary screening on "Before the Flood" by the former Oscar winner Actor, Leonardo Di Caprio, NYCA also called and published several messages under the theme "Message to Global Community" on climate change in Republica National Daily (Page 3, 12th Nov, 2016). Posters related to climate change impacts and success stories of women farmers, climate change quotes and views of celebrities were also displayed in the venue. The event was attended by youths, students, domestic and foreign tourists, media reporters and local dwellers.
The event started at 3:30 pm and ended at 6:00 pm.