Event News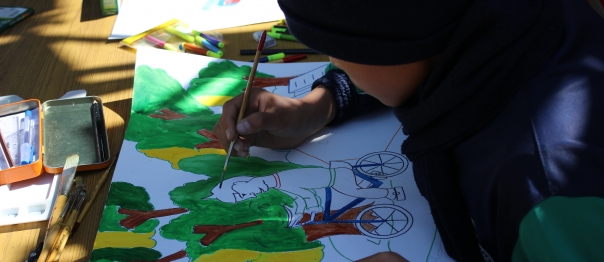 Air pollution is the major cause of environmental and public health crisis in Kathmandu Valley. According to report released by World Health Organization (WHO) 2016, the air quality of Kathmandu is five times worse than WHO recommended guidelines. Almost everyone is facing the problem of air pollution in Kathmandu Valley and it is an undeniable fact that air pollution has high public health cost and economic burden to families and as whole to our nation.
Students are also well aware about air pollution as they are facing it in their daily life. As per the World Resources Institute, "Because children breathe at a higher rate than adults, they are exposed to greater levels of pollution relative to their smaller body weight and are generally more sensitive to their effects on a pound-for-pound basis." So, in order to know the vision of school children towards air pollution with possible solutions for it an Inter School art competition themed "Solution to air pollution" was held by Clean Energy Nepal (CEN) together with Clean Air Network Nepal (CANN) on Friday, 10th February, 2017 at the premises of CEN office. The program was supported by Go Philanthropic Foundation.
The objective of the competition was to know the views of the children on how to mitigate air pollution of Kathmandu Valley in the form of art. 21 students (class 7 to 9) from 10 different schools of Bhaktapur, Laitpur and Kathmandu participated in the competition. The art competition was followed by prize distribution, which was judged by Senior Artist Mr. Ekaram Singh, Mr. Rajan Thapa, Progran Manager, CEN and Mr. Manjeet Dhakal, General Secretary, CEN. Mukesh Sunchuri from Shanti Nikunja Secondary School stood third position; David Prajapati from Vidhya Vikash Secondary School stood second while Rehan Lama from Bright Future Higher Secondary School was able to secure the first position.
"Based on the theme and art presentation, top three paintings were selected", said, Judge Mr. Ekaram Singh. He added, such competition is really helpful to spread awareness and sensitize the future generation on environment issue like air pollution. Chief Guest Mr. Manjeet Dhakal thanked all the participants and asked them to take steps from individual level towards air pollution. Mr. Rajan Thapa concluded the program, stating,"since children are more vulnerable to air pollution, they should be aware on such issues".