Event News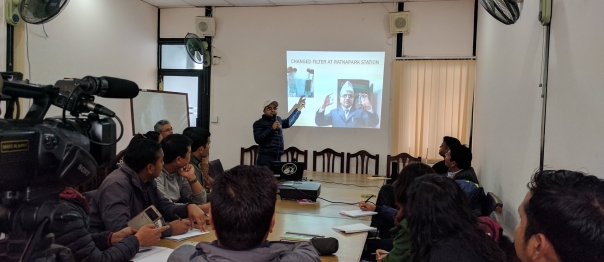 Deteriorating air quality in Kathmandu Valley and the resulting impacts requires urgent attention from governments, policy makers, scientists, stakeholders and the public. Air pollution issues are often neglected at policy making and local levels. They are yet to be prioritized as major public health issues and act accordingly. Realizing the media's important role in raising public awareness Clean Energy Nepal, Clean Air Network Nepal in support with Nepal Forum for Environmental Journalists (NEFEJ) organized a Media workshop on "Initiative on Air Pollution Control" to around 25 media person on 22 March 2017. The training workshop was conducted for journalists to increase their understanding of the issues and complexities surrounding air pollution, its sources and impacts, mitigations and data on air quality to convey to the public.

Mr. Arnico K. Panday, senior atmospheric scientist and coordinator of the Atmosphere Initiative of International Centre for Integrated Mountain Development (ICIMOD), presented on "Air pollution in Kathmandu Valley what do we know and what can we do?" Giving an overview on air pollution and its major causes, he stated that air pollution in the Kathmandu Valley depends on when and how it is emitted. Winter months are most critical than monsoon in terms of air pollution while timing of rush hour, open fires, brick kilns also matters for its increment, he added. Further, air quality in India and Terai also affects the air quality of Kathmandu valley through trans boundary wind movement. He informed that National Planning Commission formed a task force, which recommended 12 actions to address the air pollution in the capital. The recommendations included quick actions to be taken in various areas like reducing garbage burning, reducing road dust, reducing vehicle tailpipe emissions, promoting clean vehicles congestion, promoting walking and bicycling, reducing industrial emissions, promoting urban green spaces, improving monitoring and research, improving communication and awareness and improving governance. The report has been submitted to the National Planning Commission.

Mr. Shankar Prasad Poudel, senior divisional chemist at the Department of Environment, presented on air quality data of 5 different air quality monitoring stations of Nepal (Ratnapark, Pulchowk, Dhulikhel, Lumbini and Chitwan). He stated that the scientific data obtained from reliable and sophisticated device show the air quality of Terai area (Lumbini and Chitwan) is worst than that of Kathmandu Valley. The data can be accessed through the website www.pollution.gov.np of various installed station, he added. Along with the installation of air quality monitoring stations, he informed other plans of department of environment for the improvement of air quality like formulation of Clean air action plan, study of about 30 brick kilns in the valley, developing a pollution monitoring mechanism and temporary solution to the dust pollution created by the pipe laying works for the Melamchi Water Supply Project.

Ms. Rassu Manadhar from Clean Energy Nepal highlighted the major government and private initiatives on air quality management. Presenting the policies related to air quality she stated that, the country needs a clean air action plan, improved public transportation, non-motorized transport, an effective waste management mechanism and stringent emission and fuel quality standards to improve the air quality.

Mr. Manjeet Dhakal, general secretary, Clean Energy Nepal remarked that though load shedding in Nepal has been ended through the import of electricity from India but it can further increase the air pollution as they are produced from thermal power plants burning coals.

Mr. Arjun Dhakal, president, NEFEJ concluded the workshop stating that air pollution is hazardous to human health and media can play an important role to draw the attention on government and local people on the issues of air pollution by conveying reliable and fact based information on air pollution.