Event News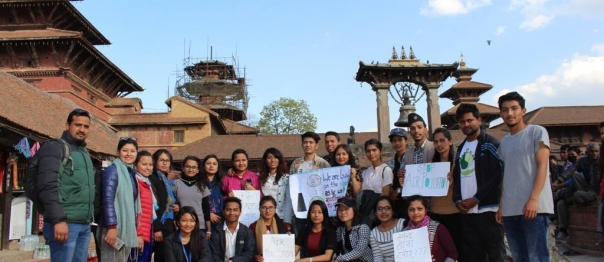 With an objective to aware the community about air pollution, Drama entitled "Causes of Air Pollution and its Solution" was demonstrated at Mangalbazar, Lalitpur on Friday, 3rd March, 2017.
During the program youths performed flash mob followed by the drama. The rural life and urban scenarios causing air pollution was presented in the drama. The perspective of indoor air pollution which still exists at many rural areas of Nepal like burning of firewood and its impact was demonstrated in the drama. Solution like usage of bio-gas to reduce indoor air pollution was discussed and demonstrated by the actors. Similarly, causes of outdoor air pollution in urban areas like burning of wastage, vehicle emission, dust from road construction along with the impacts on roadside vendors, local residents and tourist were shown during the performance. The act also displayed the views of policy makers like minister and role of media in raising the issues of air pollution.
The drama ended with the narration regarding the possible solutions like management of solid waste instead of burning, prioritizing non –motorized, sustainable low carbon transport and maintenance of greenery for mitigation of air pollution. Messages like Clean air right comes along with the responsibility for maintaining clean air from individual level was delivered by the drama.