Event News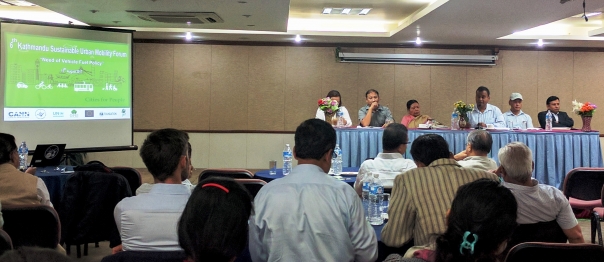 Kathmandu Sustainable Urban Mobility Forum (KSUMF) is an annual flagship event of Clean Energy Nepal (CEN). This event basically focuses to bring the stakeholders together to initiate policy dialogue and collaboration on sustainable urban mobility and better air quality in the valley. Continuing the momentum, the "6th Kathmandu Sustainable Urban Mobility Forum: Need of Vehicle Fuel Policy" was held on 15th August 2017 at Trade Tower, Thapathali Kathmandu. This year the discussion was focused on need of vehicle fuel policy for Nepal.
Giving the opening remarks, Mr. Rajan Thapa, Program Manager, CEN emphasized that we need to adopt cleaner fuels and vehicle emission standard by improving vehicle fuel economy and develop cleaner and efficient vehicle fuel policy for Nepal. The program was chaired by Honorable Ms. Geeta Chhetri, Member of Parliament, Chairperson, Environment Protection Committee. The Chief Guest Mr. Ram Prasad Lamsal, Joint Secretary, MoPE stated that all stakeholders should actively involve in the promotion of the Sustainable Transport system in the country. In addition to that Honorable Ms. Geeta Chettri highlighted the efforts from of Environment Protection Committee to control the air pollution. Further she said, "There is still a lack of technical solutions that can be achieved through today's program.
During the program Ms. Rassu Manandhar, Program Coordinator, Clean Energy Nepal presented on the overview of Transport policies in Nepal. She highlighted the major transport policies, strategies and targets for sustainable urban transport in Nepal. Presenting the overview of benefits, cost, chances and challenges of electric vehicles in Nepal, Mr. Rowan Frase, Global Green Growth Initiative (GGGI) presented on "Possibility of Electric Vehicles in Nepal". He stated, "Investing in charging infrastructure will boost consumer buy-in and reduced operating costs, due to lower per km energy."
As the program was specially focused on need of fuel policy, it was equally important to know the exact figure of consumption of fuel in Nepal. To address this issue Mr. Ram Ji Prasad Gyawali, Officer, Nepal Oil Corporation Limited shared the overview of fuel consumption scenario in Nepal. On behalf of Department of Transport Management (DoTM), Director, Dr. Toka Raj Pandey delivered his presentation on "Plan for sustainable urban transport in Kathmandu Valley" which included the current status of vehicles, along with the past, existing and future plans and policies on transport sector in Nepal. Further he highlighted that "the import of Electric vehicles are encouraged by the reduction in Customs Duty."
Delivering an online presentation on "Doubling Vehicle Fuel Economy Globally" Mr. Bert Fabian form UNEP highlighted the key aspect of the policy intervention on clean fuel, strategies and initiatives adopted by various nations around the globe along with the way ahead for Nepal. In his concluding remarks he stated that there is a need of CO2 abatement polices in Nepal, which can influence the new vehicles manufacture and import to reduce air pollution and GHG emission.
The presentation was followed by Panel discussion, which was facilitated by Mr. Bhushan Tuladhar, Advisor, CEN. The panelist were:
Honorable Ms. Geeta Chhetri, Parliamenty Member, Chairman, EPC

Mr. Hitendra Dev Shakya, Managing Director, Nepal Electricity Authority Engineering Company (NEAEC)

Dr. Toka Raj Pandey, Director, Department of Transport Management (DoTM)

Mr. Umesh R. Shrestha, President, Electric Vehicle Association Nepal (EVAN)

Ms. Shubha Laxmi Shrestha, Senior officer, Alternative Energy Promotion Center (AEPC)
Ms Shubha Laxmi Shrestha informed the renewable energy like biofuel as a possible option to fossil fuel. She also shared about various initiatives and program for the production and promotion of biofuel by AEPC. Mr. Umesh R. Shrestha briefed about the sustainability of Electric vehicles and energy security in Nepal. According to him there is chance of plying 100% Electric Vehicles in Kathmandu incase of sufficient technical and financial support from concerned institution. Mr. Hitendra Dev Shakya, stated that the surplus electricity can be used for the promotion of Electric Vehicles in Nepal but there should be sufficient charging station and maintenance option for its effective implementation.
During the open mike session the participants gave various queries, suggestions and recommendations to the panelist and key speakers. As a closing remarks and feedbacks, Mrs. Geeta Chhetri remarked that electric and bio fuel can be a good alternative for renewable energy for Nepal. She concluded that the forum was very informative and all the stakeholders should come together for the integrated and sustainable development of the country.Mr. Bhushan Tuladhar concluded the program with few remarks;
There are decent transport policies in Nepal, but the major problem is in implementation phase.

Proper utilization of the fund and its smooth flow is necessary.

Promotion of electric vehicles should be done for the sustainable transport.
The 6th Kathmandu Sustainable Urban Mobility Forum showed the mutual consent on the need of the vehicle fuel policy for Nepal. These policies must be able to separate polluting and cleaner vehicle fuel. It should incorporate the quality assurance of the imported fossil fuel. Additionally, the Environment protection committee of Parliament noted the transport management as the major issue and showed assurance for proceeding further on it. For achieving the cleaner and efficient transport; switching to the alternative fuel source: electricity and improving the efficiency of fossil fuel through increasing standard could be the way forward for Nepal.
Over 60 participants from international, national and local governmental agencies, non-governmental agencies, developmental agencies, transport experts, urban planners, academia, private sectors and media personnel participated in the forum. The event was supported by United Nation Environment Program (UNEP).