Event News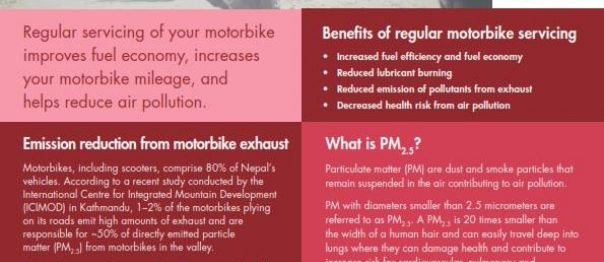 Motorbikes, including scooters, comprise 80% of Nepal's vehicles. According to a recent study conducted by the International Centre for Integrated Mountain Development (ICIMOD) in Kathmandu, 1–2% of the motorbikes plying on its roads emit high amounts of exhaust and are responsible for ~50% of directly emitted particle matter (PM2.5) from motorbikes in the valley.
With an objective to aware the motorbike riders/commuters about the importance of regular servicing of motorbikes to reduce the PM2.5 emission throughout Kathmandu Valley, Clean Energy Nepal (CEN)/ Clean Air Network Nepal (CANN) together with International Center for International Mountain Development (ICIMOD) is going to conduct a week long campaign "A Campaign for reducing PM2.5 emission from motorbike" with the support from traffic police starting from 13 November 2017.
The emitters will be given awareness through pamphlets and a NRs 200 discount coupon will be given to them as an encouragement for them to service their motorbikes regularly.
The study measured emissions from 56 motorcycles and scooters before and after routine servicing. It found that the standard service offered at local repair workshops (i.e., oil change, filter cleaning and carburetor check) can substantially reduce PM2.5 emissions.