Event News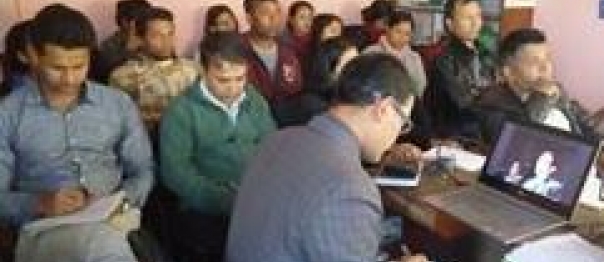 Clean Energy Nepal (CEN) organized Virtual Sharing of COP22: "Marrakech to Kathmandu" on Nov 17, 2016 at program hall of Clean Energy Nepal office. The program was coordinated by Rajan Thapa, Program Manager of CEN from Marrakech. In the program, Honorable Minister for Population and Environment Ministry Mr. Jaya Dev Joshi, Secretary of Ministry of Population and Environment, Dr. Bishwo Nath Oli, Under Secretary Dr. Ram Prasad Lamsal, Mr. Janak Raj Chaudhary, President of Environment Protection Council and Mr. Rajan Thapa shared their remarks. In Marrakech, the delegates including government officials, civil society organization representatives, media persons participated in Marakech, Morroco whereas representatives of civil society organizations, youths and practitioners participated in the program in CEN.
Dr. Bishwonath Oli, Secretary of MoPE initiated the program with the brief background on the achievements and on-goings in COP 22 and Ram Prasad Lamsal, PhD the Joint Secretary of Ministry of Population and Environment (MoPE) shared the updates from meetings of CoP 22, CMP 12, SBI 45, SBSTA 45, CMA 1 and informed about deligient and active participation of Nepali delegates in various bilateral and multilateral meetings. He also highlighted on the active involvement of Nepalese delegates and sharing of responsibility to raise the issues of Nepal in more profound way. He also informed about the recent support to Nepal and Liberia from GCF for formulation of National Adaptation Plan (NAP). Mr. Janak Raj Chaudhary, President of Parliamentary Committee for Environment Protection highlighted mainly about the role of Nepal for the implementation of Paris Agreement and opined that Nepal should raise the issues of Mountain countries effectively in the CoP 22. He also appreciated the efforts being put by every Nepali delegation team.
Honorable Minister Mr. Jaya Dev Joshi expressed his happiness on entry into force of sooner than it was expected and he urged to formulate rule for the effective implementation of the Paris Agreement. He highlighted and appreciated the side events and exhibitions of achievements and plans of Nepal in Marrakech, MoroccoHhe emphasized on the urgency of climate finance to the Least Developing Countriesand he said LDCs should take strong leadership to achieve climate finance.
The participants of the program in Nepal raised various issues on loss and damage, funding channel of Green Climate Fund, progress on climate finance, fate of Climate Agreement after the election of new president in the US and mechanism of NDC. Ram Prasad Lamsal, Phd the Joint Secretary of MoPE answered to the queries. He expressed that the issues of loss and damage has been raised very remarkably and expects it be decided in the high segment. He also mentioned that the fund from Green Climate Fund would be channelized through United Nations Environment Program. He opined that Climate Agreement should be continued irrespective of the political issues since the agreement is the concern of all humankind.
This is the second virtual sharing that CEN had organized. The first one was organized on 11 November, 2016. Mr Kamal Raj Gosai, Executive Director of CEN expressed vote of thanks to all the participants of the program.