Event News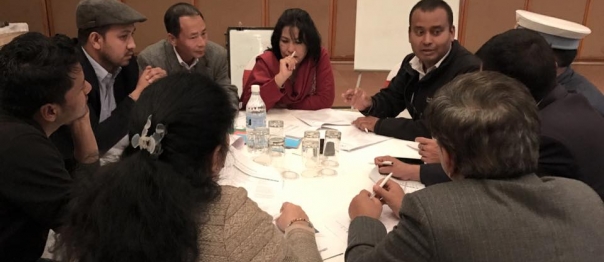 Clean Energy Nepal and Clean Air Network Nepal together with Kathmandu Metropolitan city and Clean Air Asia organized a workshop on 29 November 2016 to support and recognize good environmental governance through clean air certification in Kathmandu Metropolitan City. Around 30 participants from government agencies, non-government agencies, developmental agencies, and academia and air pollution experts participated in the workshop.
The program started with opening remarks from Clean Air Network Nepal's coordinator Mr. Rajan Thapa stating, "The workshop has brought together diverse stakeholders and participants from several Government Ministries, Departments and Agencies as well as civil societies and international partner such as Clean Air Asia."
Katherine from Clean Air Asia presented the overview of Clean Air Certification. She stated, "The core of the initiative in the development of the Clean Air Certification is to recognize actions that cities take to address air quality, make it easier to establish new collaborations with public and private stakeholders and increase opportunities for cities to learn from each other and collectively address issues". She added, "It mainly focuses in institutional coordination, air quality information, understanding pollution sources, planning and infrastructure, Air pollution reduction and new stakeholder engagement."
Regarding the initiative of Department of Environment, Shanker Poudel said, "Monitoring stations have been installed in Ratnapark of Kathmandu District, Pulchowk of Lalitpur District and Dhulikhel of Kavre District and the data is available in the website pollution.gov.np for the public to access it. He added, "DoE is in the process of preparing Air Monitoring Action Plan and emission inventory".
Mr. Rudra Man Singh Tamang, the Chief Executive Officer of Kathmandu Metropolitan City concluded the first session. He opined, "Black topped road could solve problem of air pollution of Kathmandu Valley. The whole width of a road should be black topped and the remaining space should be used for greenery. He added, "KMC is working in solid waste management sector for long and he welcomes cooperation from everybody until it's managed properly."
The second session concentrated on discussion on Air pollution reduction action and new stakeholder engagement. The discussion focused on the priority targets and indicators for reducing emission. Some of the priority areas were waste management, road and building construction, public awareness, greenery, cycle infrastructure planning, vehicle free core area, public transport, footpath and frequent consultation meeting of stakeholders.
Executive Director of Clean Energy Nepal, Kamal Raj Gosai stated that, "City Certification is a good approach to curb air pollution in Kathmandu and consultation meetings among the stakeholders are important and would be one of the next step of city certification program." He concluded the program by saying, "The preparation of Clean Air Action Plan should be the concern of all stakeholders."