Event News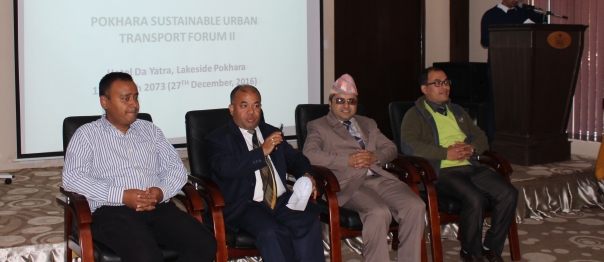 Clean Energy Nepal (CEN), Clean Air Network Nepal (CANN), Fredskorpset(FK) in collaboration with Pokhara Sub-metropolitian city jointly organized "2nd Pokhara Sustainable Urban Mobility Forum" as Pokhara Clean Air Forum on 27th December, 2016. The annual forum aimed to bring the stakeholders together to initiate policy dialogues enhance partnership and collaboration among stakeholders, and share initiatives and best practices on sustainable urban mobility for better air quality. This year the discussion was focused on need and importance of clean air in Pokhara.
Mr. Om Raj Paudel, Pokhara Sub-Metropolitian City (PSMC) remarked that the environment of Pokhara is degrading along with the increasing urbanization and development works. He expressed that this sort of forum can be helpful in developing special agenda for the environment friendly development of Pokhara.


Chief Technical advisor, UN-Habitat and advisor of CEN Mr. Bhushan Tuladhar presented on the Air pollution in Nepal- Challenges and Opportunities. The presentation focused on non-motorized transport. He stated, "The air pollution of Kathmandu is 5 times higher than WHO standard". "People centric development should be focused rather than vehicle centric development", he added.
Mr. Shankhar Pd. Paudel, Senior Chemist, Department of Environment shared about the plans and polices related to Air Quality Management of Nepal. He said Air Quality Monitoring has been installed in Ratnapark of Kathmandu, Pulchowk of Lalitpur and Dhulikhel of Kavre, adding that the monitoring station can be installed in Pokhara as well if demanded by Pokhara Sub Metropolitan City." He displayed the air quality data through pollution.gov.np to share the information to the participants about the website.
Er. Netra Timilsina, from Pokhara Sub Metropolitan City presented about the plans and policies related to air quality management of PSMC. Mr. Timilsina remarked that there is need to discuss and analyse the issues like increased vehicle problem, air pollution, solid waste management for green and clean Pokhara. Mrs. Shriju Pradhan, Deputy Director, Kathmandu Metropolitan City presented on KMC efforts for Sustainable Urban Transport especially focusing on KTM Walks- a campaign to promote walking and cycling in the core urban area. She added, "Pokhara street festival should continue and be organized frequently to aware and act for the better air quality and mobility. "
The F.K participant Ms Rassu Manandhar, CANN shared her study on ambient air quality in microenvironment of Pokhara City. She said, "The main objective of this study is to assess the concentration of traffic and industrial related air pollution including PM 2.5, VOC, TVOC, CO and CO2 in urban areas in comparison to the background air quality in rural background areas." She added, "Total Volatile Organic Compound and PM2.5 concentration were found highest in industrial and lowest in Touristic area among the four selected sites".
Ms. Rashmi Maharjan, CANN shared her research study on Air quality of on Road Urban environment of Pokahra. The study mentioned that the PM2.5 concentration was higher in all routes while other pollutants concentration was below standard values. Spatial and Temporal variation was observed among routes. She stated that, " the vehicular emission and dust re-suspension were major sources of pollutants that deteriorates on-road air quality. Quality check of vehicles and use of effective measures to reduce exposure were recommended."
The second half of the program was followed by panel discussion facilitated by Mr. Bhushan Tuladhar with eight panelists, Mr. Shankar Prasad Sharma, DoE, Mr. Netra Timilsina, PSMC, Mrs. Indra Kamal Manandhar, Civil Society, Mr. Tek Bahadur K.C, Division Road Office Pokhara, Mr. Udaya Bhattarai, Nepal Tourism Board, Mr. Prakash Bajracharya, Cycle City Pokhara, Mr. Shiva Prasad Pathak, Traffic police, Mr. Bhim Ghimire, Kantipur Publication. The entire panelist shared common view that though the environment of Pokhara has not been worst but the situation can be similar to Kathmandu valley if prompt actions are not taken. They opine that this type of program can be a mile stone for the better policy and actions for Clean Pokhara. Many queries and suggestions like need of mass awareness, implementation of no vehicle zone, banning of old vehicles, formulations of policy like green stickers, installation of air quality monitoring stations, traffic management, Improvement of footpath and cycle lane, solid waste management, open space and greenery management were discussed during the panel discussion. Addressing all such queries Mr. Netra Timilsina informed that PSMC would work on such issues in co-ordination with other stakeholders for better air quality of Pokhara.
In his closing remarks, Mr Kamal Raj Gosai, the Executive Director of Clean Energy Nepal stated that Pokhara being one of the best tourist hub of Nepal with serene beauty and warm people should be aware about the deteriorating quality of air now because it would pose negative impact on tourism business and induce degradation of health of people of Pokhara. He highlighted that the forum has been able to bring all stakeholders to discuss on how Pokhara can move on to ensure better air quality. He also thanked the gracious presence of all the stakeholders for their active participation in the discussion.

Pokhara Clean Air Forum concluded with 9 points that need to be worked out for better air quality of Pokara that includes maintain, monitor and manage old vehicles, establishment of Auto village, obstruction on footpath should be removed, parking in public area should be restricted, construction of footpath, greenbelt and cycle lane in river corridors, one ward one park policy should be formulated, installation of air quality monitoring stations, Transport management plan, social mobilization programs should be conducted.
55 participants from national and local governmental agencies, non-governmental agencies, developmental agencies, transport experts, urban planners, academia, private sectors and media personnel participated in the forum.