Event News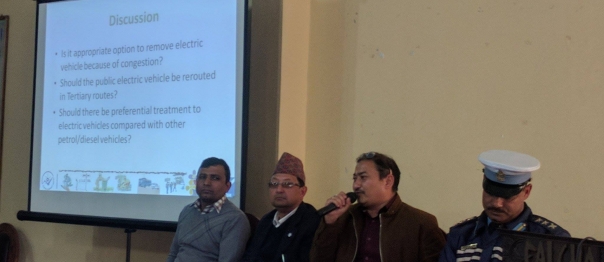 Putting mobility, accessibility and environment friendly and sustainability at the center an inclusive urban transport policy should be devised. Strategies, regulations and standards needs to be formulated to regulate, manage and promote public transportation. The government has decided to ban vehicles more than 20 years old from plying in Kathmandu Valley. In this context Clean Energy Nepal (CEN) conducted a dialogue amongst stakeholders to have a discussion on should the policy for electric vehicle and diesel/petrol vehicle be the same on 28 February 2017 at SAP Falcha, Babarmahal.
The panelists for the discussion program were
· Dr. Toka Raj Pandey, Spokesperson, Department of Transport Management
· Mr. Deepak Shrestha District Commissioner, Kathmandu Valley Development Authority
· Mr.Lokendra Malla, SP, Metropolitan Traffic Police
· Mr. Umesh Shrestha, President, Electric Vehicle Association Nepal
The discussion focused on is it appropriate option to remove electric vehicle because of congestion? And should there be preferential treatment to electric vehicles compared with other petrol/diesel vehicles?
Mr. Umesh Shrestha said that the technology should be different for different vehicles. Safa tempo once recharged can run up to 400 to 500 km, which saves 64800l fuel per vehicle. Hence it is energy and environment friendly. Mr. Deepak Shrestha stated that electric vehicle is needed for environment conservation. He added, "We need electric vehicle but the ban of 20 years old vehicle should be decided by the experts." Mr. Lokendra Malla stated that, "Traffic police are vulnerable to air pollution of Kathmandu hence electric vehicle can help to reduce air pollution as it is zero emission vehicle." Dr. Toka Raj Pandey clarified that 20 years old vehicle are restricted to ply on roads of Kathmandu Valley from Falgun 18 and from Falgun 30 out of Kathmandu Valley keeping congestion in mind.
Member of parliament, Honorable Kamala Biswokarma and Honorable Madan Amatya also participated in the discussion program. They emphasized on the need of new modified Safa tempos. They assured that the suggestions from this discussion program would be included in policy formulation and NEA should support electric vehicles as well.
Krishna Gyawali, Ex Secretary of Government of Nepal stated that the Public vehicle is not passenger friendly so it should be upgraded with technology. He added more seated Safa tempo is needed to keep up the demand of the city.
Bijay Man Sherchan stated that the ban of the vehicle should be based on the sticker system rather than their age.
Rajan Thapa, Clean Energy Nepal said that in Katmandu valley 75% vehicles are private whereas 3.38% vehicles are public transport. He questioned the government whether the congestion is being caused by private vehicle or public vehicle.
H.D. Shakya from Nepal Electricity Authority said petrol/diesel vehicle should not be preferred instead we should promote electric vehicles. The time period for electric vehicle should be increased at least by 10 years.
The discussion program concluded with remarks from DoTM. He said that the ban of 20-year-old vehicle is just a message to the public; the main aim is to promote the big public transportation, which will automatically discourage the small vehicles. Since the policy is already formulated it cannot be changed so we should take this as an opportunity.
The program highlighted that mass transportation is important where lectrification is necessary for sustainable transport system. Safa tempo should be rerouted to tertiary routes of Kathmandu Valley instead of banning the vehicle. Furthermore electric vehicle should be promoted and supported from the policy level as well and preferential treatment is needed for electric vehicles and petrol/diesel vehicles.
Over 50 participants from government, civil society, networks, academicians, researchers, media person and like-minded groups and individuals participated in the program.