Event News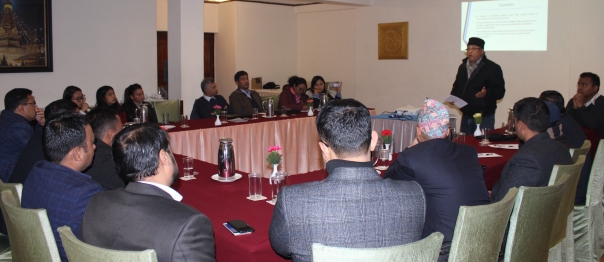 Clean Energy Nepal togeth with Clean Air Network Nepal and United Nations Environment Programme organized a discussion program on "Vehicle Fuel Economy Labeling of LDVs in Nepal". The program was attended by the representatives from government agencies, non-government agencies, research institutions, automobile industries, transport entrepreneurs and academia. The objective was to bring together the stakeholders to discuss on vehicle labeling schemes and to recognize possible formulating agencies/bodies in Nepal for its implementation.
Mr. Bhusan Tuladhar, Chairperson of Clean Energy Nepal begun the program with program overview and objectives sharing. Mr. Bert Fabian, Programme Officer of United Nations Environment Programme shared the vehicle fuel economy labeling of light duty vehicles (LDVs) on global context. He introduced about the vehicle fuel economy labeling (VFEL) and its importance.
Dr. Thusita Sugathapala, Senior Lecturer from University of Moratuwas shared experiences on vehicle fuel economy labeling of light duty vehicles (LDVs) in South Asia region. From his presentation he shared the Nationally Determined Contribution (NDC) commitment of south Asian countries including Nepal. He stressed on Nepal's commitment to reduce dependency on fossil fuels by increasing the share of electric vehicles by up to 20 percent by 2020.
Professor Dr. Amrit Man Nakarmi, Centre for Energy Studies, Instiitute of Engineering, Pulchowk shared the findings of fuel economy study conducted in Nepal. "As per GFEI target to reduce fuel consumption by 50% by 2030, Fuel Economy of Nepal should come down to 3.48 Lge/100km by 2030" said Dr. Nakarmi. From the study he projected that with the penetration of electric vehicles, the fuel economy could improve up to 3.72 Lge/100km by 2030 and CO2 emission could be improve to 77 g/km.
Mr. Mani Ram Bhusal, Senior Divisional Engineer from Ministry of Physical Infrastructure and Transport, Mr. Indu Bikram Joshi, Deputy Director General from the Department of Environment, Mr. Kapil Shivakoti, Central Committee member of NADA Automobile Association of Nepal and other participants of automobile industries discussed how VFEL is not just important to aware the consumers to buy the most fuel efficient cars but also to make them realize how their choice could impact the environment, about the possible way forward and the need for vehicle fuel economy labeling scheme of LDVs in Nepal.